The cloud has become a valuable part of our business and personal lives, and with it, the promise of data that is stored in multiple places for maximum safety and redundancy.
But despite the marketing hype, understand that just because you have stuff "in the cloud", it doesn't mean your data is totally safe.
If you don't believe me, go ask the business owners who lost critical data when the Amazon Cloud crashed for 2 days back in 2011…
This isn't the first time an Amazon AWS outage has knocked out critical websites and services – it did it again in 2017, 2020, and most recently in December 2021.
Sure, the cloud provides a level of security against data loss.
But that protection is only good if there's a hardware or network failure… or a meteor hits one of their datacenters.
The cloud itself provides no protection against data changes made at the account level
This especially applies to any service providers you have, like web hosts, and email marketing providers, who hold critical business data on your behalf as part of their service.
For example, if someone logs into your email marketing account and deletes all your subscribers, you upload the wrong CSV file, or a badly configured automation runs amok, how does your provider know it wasn't an intentional and valid action?
They don't… and so that change quickly replicates through their cloud and your data is soon trashed EVERYWHERE!
You see, Cloud services require two backup points to fully secure data – one at the infrastructure level (which your provider is responsible for), and one at the account level (which you are responsible for).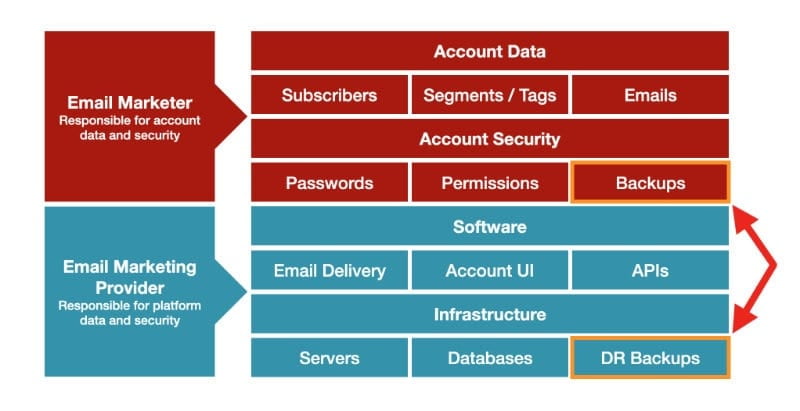 It's called the Shared Responsibility Model.
The only time you get a chance to recover from account level data changes is if your provider SPECIFICALLY makes provision for it in their app, such as a trash folder for deleted items, or an undo option after an action.
That's just one of the many reasons why you NEED to make your own backups of critical business data – such your email marketing lists.
Preferably every day (especially if your list has lots subscribers and/or unsubscribes).
And you need to secure those backups to prevent a data breach (e.g. using encryption).
If you need help with all that, check out ListLockr.
It makes a secure, encrypted backup of your subscribers every single day.
No need to think about it or remember to do anything.
It's a little slice of freedom, served with a generous topping of peace of mind.