If you use MailChimp, then this short article could save your business (or job!).
Especially if you don't already export your contacts as a backup every day.
Look, I'm not going to waste time talking about how important email marketing is to your business success. Or tell you how difficult it is to build a responsive email list.
You already know all that!
What you may not know is, if you delete your MailChimp contacts accidentally, or someone does it maliciously, they are gone forever. Unless you have a fresh backup.
Ok, with that out of the way, let's talk about…
Why Deleted MailChimp Contacts Are Gone Forever
To comply with global privacy laws, when you delete a contact, MailChimp erases all their personal information and anonymizes their data in your reports.
It's a permanent action, and MailChimp cannot undo it.
Nor can they restore your account from their disaster recovery backups. That's because these backups are designed to quickly recover their entire system in one go… they can't be used to restore individual user accounts or segments of account data.
Hence all the "Are You Sure?" warnings before you delete anything.
Problem is… like most warning signs, the more we see them, the less effective they become.
It gets to the point where the warning is an inconvenience, dismissed without a second thought. And it's all too easy to click 'Delete All' rather than 'Delete Selected'.
As contemporary art gallery, Diego Diez, found out recently…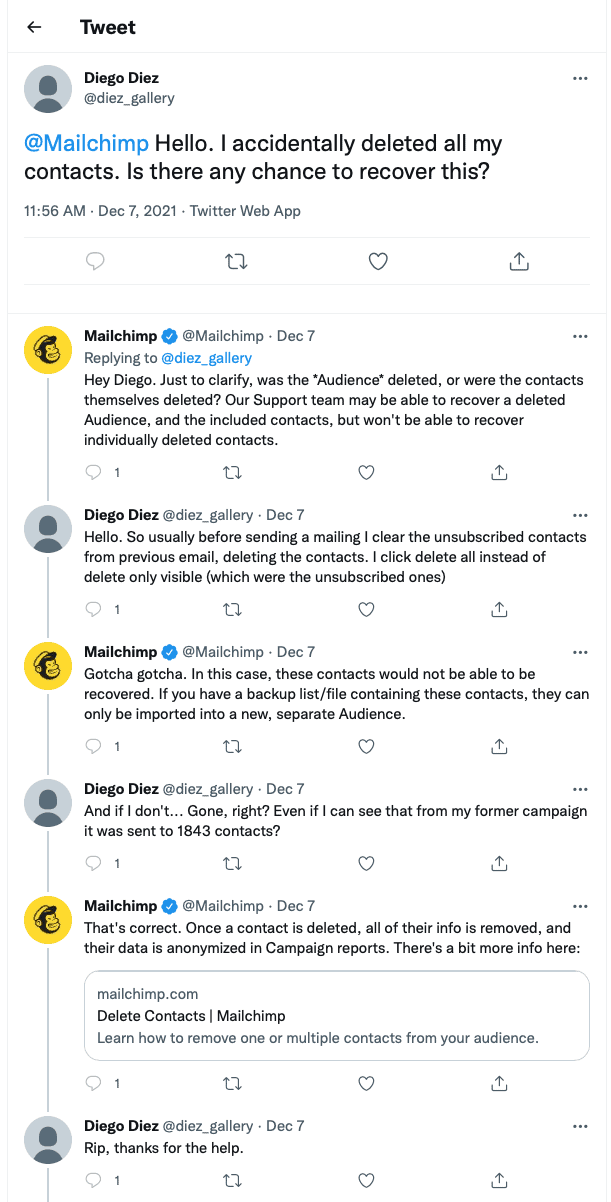 He lost all 1,843 of his hard earned subscribers in a heartbeat.
And he's not alone.
Chanie Hyde, accidentally deleted 40,000 contacts from her employers MailChimp list.
Thankfully, she had made an export two weeks before, but as she says in her blog, it was a huge risk using a backup that old because, "it wouldn't include new unsubscribes and cleaned contacts. A real risk for GDPR violation."
All in all, it took 1.5 days to clean the list and recover just 18,000 of the lost contacts.
Fact is, mistakes happen. Account hacks happen. Disgruntled employees happen. Automation and 3rd party software glitches happen.
And if you don't have a fresh backup to hand, it's game over.
That's why you need to make a fresh export / backup of your Audiences/Contacts.
Every.
Single.
Day.
How To Export MailChimp Contacts MANUALLY
MailChimp lets you export your Contacts by Audience manually, once every 24 hours.
Here's how:
Firstly, login to MailChimp… then click your profile icon and choose Account.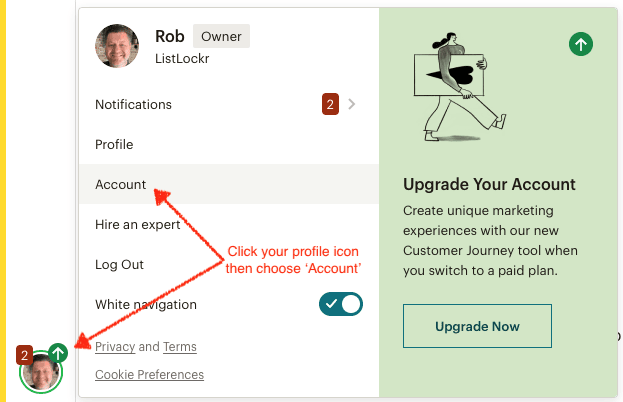 Next, choose Settings, then Manage my data to access the export data screen.
Select the Audiences checkbox.
Finally, select All data, then hit the Export Data button.
Your request is then queued for processing by MailChimp, and they email when it's ready.
As you can see, it's easy enough to do… it's just tedious to remember to do it every day.
And it's time consuming waiting for the export to finish so you can download a ZIP containing a CSV file of Contacts for each Audience.
Thankfully, there is an alternative…
A fully automated backup solution called ListLockr.
How To Export MailChimp Contacts AUTOMATICALLY
ListLockr makes a secure, encrypted backup of your MailChimp contacts every single day.
You don't have to think about it, or "do" anything.
You simply connect ListLockr to your Mailchimp Account and the rest happens automatically.
Contacts are sorted by Audience, and include all their tags and related data.
That way, you'll always have a fresh CSV export of your MailChimp contacts available to download should the worst happen to you.
Get Started With ListLockr For MailChimp Now
It's as easy as 1-2-3
Visit the Backup Dashboard and follow the simple wizard to connect MailChimp
Go grab a coffee while ListLockr gets to work on your first backup!
Not with MailChimp?
Don't panic! ListLockr works with a number of popular email marketing providers.